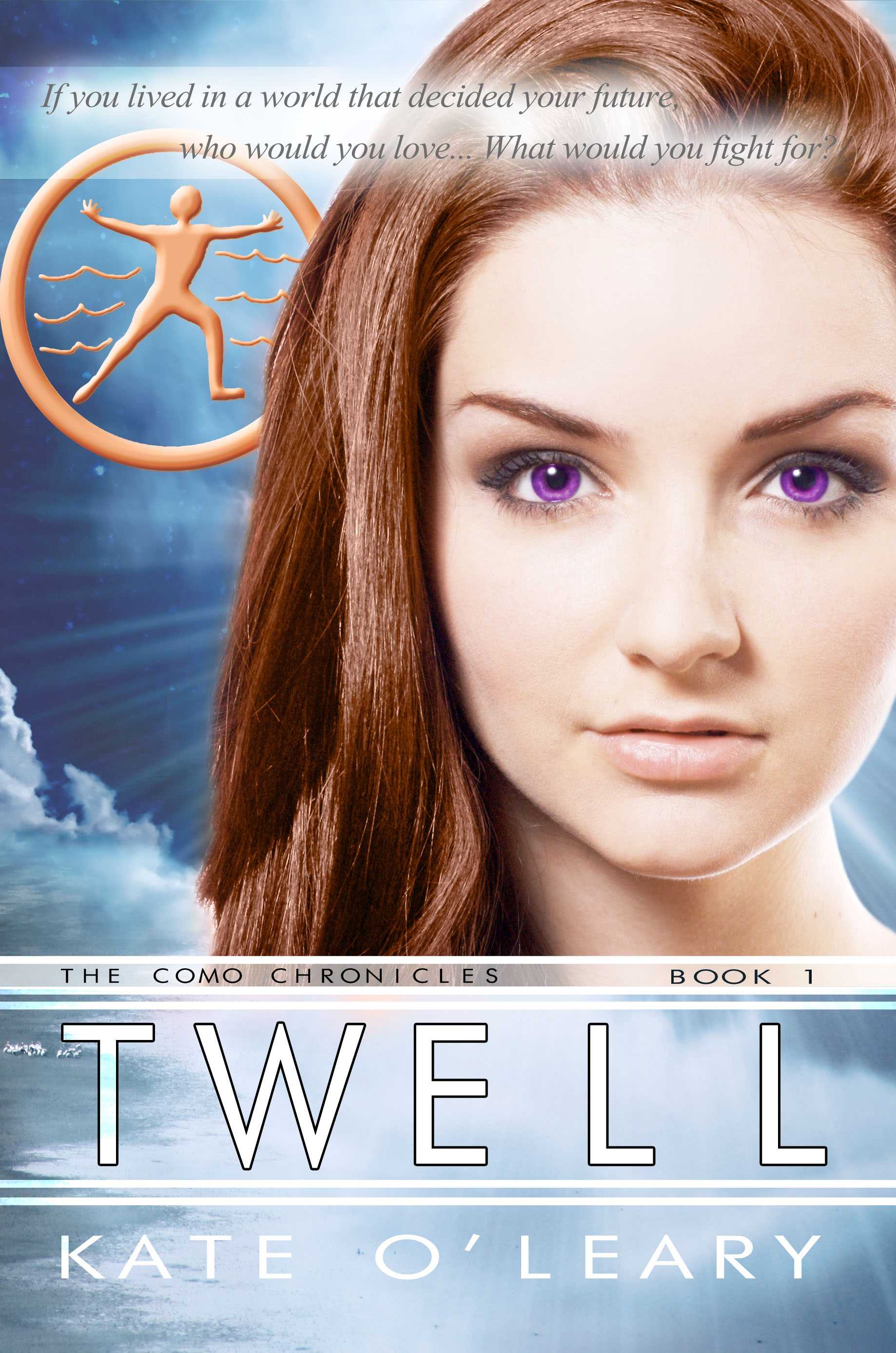 Title: Twell and the Army of Powers
Series: The Como Chronicles #1
Author: Kate O' Leary​​
Publication Date: June 26, 2014
Genre: YA Dystopian/Fantasy
BLURB
If you lived in a world that decided your future, who you would love...what would you fight for?
Twell lives in the new world of Como, and has always neglected her telekinetic gifts, desiring to be 'normal.' Her biggest drama in life is having to be genetically partnered with a boy she doesn't know or love by her next birthday. Unfortunately she loves her best friend, who loves the girl she hates most, and Twell is left frustrated & heartbroken.
When Twell is requested alongside several other teens to develop her skills for the protection of Como, she reluctantly agrees to the training, and finds herself thrown into all sorts of mental and physical challenges.
Handsome, charismatic Jonaz, is gifted with the power of healing. According to Twell he's an infuriating prat who delights in provoking her. But first impressions have always been her downfall.
When Como is attacked, life as Twell knows it is changed forever, with devastating consequences. With no choice but to fight, Twell risks her life to protect those who have survived, coming up against unexpected dangers she could never anticipate. Will she survive, and if so will she be matched to a stranger when the one she is growing to love is destined to another?
5 STARS
My Review
Twell and the Army Of Powers is a YA dystopian novel about a future in which the Governing Body dictates every choice in a person's life, including who they will marry. Twell is fast approaching the time for her partnering and she dreads it. She has a rebellious spirit she must constantly hide in a world where conformity and obedience are the only acceptable behaviors. But when the threat of war looms over Como and the Governing Body gathers up Twell and other young people with powers to train as soldiers, everything in her life is flipped upside down.
The titular character, Twell, goes from being a mostly ordinary teenager to a soldier over the course of the book. This is handled in a very believable manner. Her character grows and changes as the story progresses and each moment of it feels real and natural, not forced as is often seen in stories of this nature. As she learns truths about herself and those around her, as she suffers through traumatic experiences, she remains herself even as she changes. She's forced to grow up too fast, made to understand that people are not always as they seem to be, and there are two sides to every war.
This is a powerful book full of emotion, both negative and positive. Each character is unique, interesting, and believable. The story flows in a wonderfully natural way, with moments of levity interspersed with the harshness of reality. Scenes of romance and action are perfectly balanced to make this a nice roller coaster ride of ups and downs with a few surprising twists along the way.
I'm sorry to see this book end and I eagerly await the sequel. If you enjoy YA dystopian, you should definitely give this one a try. It's brilliant.


Amazon
|
Barnes&Noble
|
Smashwords

Kate O'Leary, has loved reading and writing ever since she was young enough to try and get through the back of her cupboard into Narnia, or through her mirror into Wonderland! In high school she entertained her homeroom reading out chapters of her first novel 'Miranda' about a teenage girls adventures with her horse Rusty.
After school Kate studied Children's Literature, and her first drafts of Twell were awarded in writing competitions. Kate's writing interest is firmly embedded in dystopian fantasy, being continually fascinated with future direction of our world and the concepts of free will and moral vs. lawful obligations. Twell's adventures will continue to explore these ideas in the Como Chronicles Trilogy.
Kate lives in the beautiful Adelaide Hills of Australia, surrounded by rolling hills and wineries and horses, as well as some good rocks to climb when she feels like scaring herself!
Social Media Links
There is a giveaway for this tour. A $25 Amazon/B&N Giftcard or a Book Depository shopping spree of the same value, OR a digital copy of Twell!
Open Internationally. Ends 8/15. Void where prohibited.

a Rafflecopter giveaway